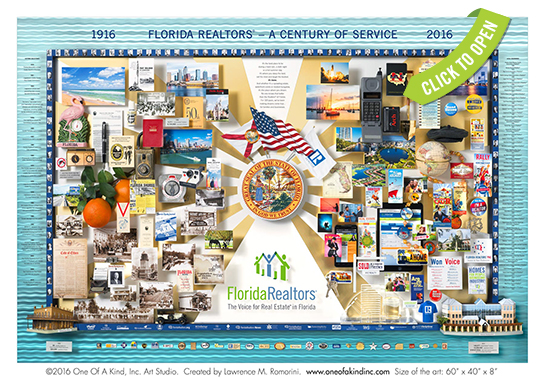 Since that humble beginning in 1916, hundreds of thousands of Realtors have helped millions of Floridians achieve the dream of owning a home or business.
Florida Realtors' mission is to advance Florida's real estate industry by shaping public policy, teaching ethical practice and enhancing efforts of local associations to provide tools members need to succeed.
Florida Realtors is the largest trade association in the state, and its 155,000 members rely on the association for proprietary business forms, networking opportunities, education programs, market data and analysis, advocacy initiatives and much more.
Cheers! Here's to the next 100 years as Florida's voice for real estate!
HISTORIC MILESTONES

1916
Florida Association of Real Estate Boards is founded.
1921
Legislature creates Florida Real Estate Commission.
1923
Legislature passes laws preventing state incometax and inheritance tax.
1925
The terms "real estate broker" and "real estate salesperson" are adopted and delineated by the Legislature, providing clarity for the profession and the public.
1930s
The Legislature adopts the Homestead Exemption Act.
1955
Florida Turnpike authorization.
1963
Condominium Act is enacted.
1966
Florida Realtors® celebrates 50th anniversary.
1969
A computer is used in property sales,transforming technology.
1972
The Florida Legislature passes the Land Conservation Act, which creates the Environmentally Endangered Lands (EEL) program.
1976
Legislature enacts the Real Estate Recovery Fund.
1978
Legislature passes Florida Housing Finance law.
1982
Bill creates Division of Real Estate, which regulates the preparation and administration of exams. 1985 Growth Management Act passes.
1992
William E. Sadowski Act creates two trust funds: a state government housing trust fund and a local government trust fund.
1995
Private Property Rights Protection Act passes, mandating full compensation for the deprivation or devaluation of the lawful use of private property.
2002
The Florida Supreme Court rules in favor of Realtors® and repeals the sales tax on services.
2005
Two Commercial Real Estate Lien Acts are adopted.
2016
Florida Realtors® celebrates 100th anniversary.
Article from FloridaRealtors.org

About the writer: Florida Realtors Celebrates 100 Years!was written by Cathryn Blair-Bennett, broker-associate for Coldwell Banker Residential Real Estate in Cape Coral, FL. Cathryn can be reached directly at (239) 244-1495 or via email Cathryn@CBCapeCoral.Com.

For buyers and sellers Coldwell Banker Residential Real Estate services Cape Coral, Fort Myers, Fort Myers Beach,Lehigh Acres, Estero, Bonita Springs, Alva, Sanibel Island, Captiva Island, North Fort Myers, Naples, and Pine Island in southwest Florida.

I Want To
Search For Properties
I Want to Know More About Home Buying
Real Estate Advice & Tips
How Much is My Home Worth?
I Want to Know More About Selling My Home
Learn More About

Coldwell Banker Residential Real Estate

Real Estate

Neil &Cathryn Blair-Bennett

Coldwell Banker Residential RE

1631 Del prado Blvd. S., Unit 410

Cape Coral Fl 33990

239 244-1495




---

You Can Also Visit Us At: