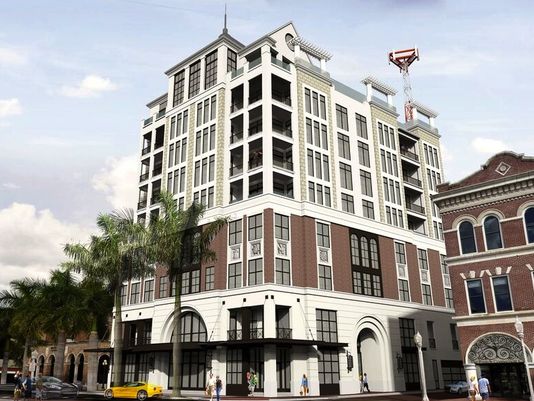 The rennaissance of downtown Fort Myers is well underway and the approval of a new project by the city council will make sure that it continues.
What evolved was The Place on First: a multi-use building of retail and restaurants, offices and upper story condos topped by a sky deck, that's being hailed as very cool, indeed.
Nine-stories and 60,210 square feet at Jackson and First streets;
3,800 square feet of street-level retail
4,500 square feet of second-floor commercial and retail
19,000 square feet of Class A office space on the third and fourth floors
16 condos on floors five through eight (four units per floor) from 1,300 to 2,400 square feet, most with river views
On-site parking
A roof-top event space with pool, indoor and outdoor bar and sun deck.
Calling the project "an iconic structure within the historic district," city staff urged the CRA Advisory Board to grant the developer a 10-year, 95 percent tax increment rebate to help defray construction costs – which the board did on Wednesday.
"I've talked to so many developers who are interested in the historic core, but at the last minute choose a site out in the county where the land is cheaper," Councilman Mike Flanders said. "When they see this project going up, I think they'll take another look at downtown Fort Myers."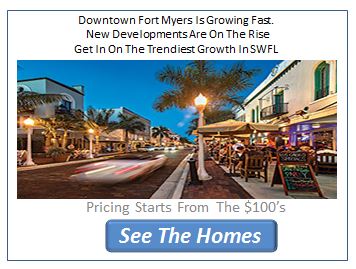 With the Harborside hotel project seemingly moving forward, and other condo projects nearing ground breaking, businesses are moving in to the area in the form of restaurants, offices, and retail.
About the writer: Downtown Fort Myers Growing Again was written by Neil Blair-Bennett, broker-associate for Coldwell Banker Residential Real Estate in Cape Coral, FL. Neil can be reached directly at (239) 244-1495 or via email Neil@CBCapeCoral.Com.
For buyers and sellers Coldwell Banker Residential Real Estate services Cape Coral, Fort Myers, Fort Myers Beach,Lehigh Acres, Estero, Bonita Springs, Alva, Sanibel Island, Captiva Island, North Fort Myers, Naples, and Pine Island in southwest Florida.
I Want To
Search For Properties
I Want to Know More About Home Buying
Real Estate Advice & Tips
How Much is My Home Worth?
I Want to Know More About Selling My Home
Learn More About

Coldwell Banker Residential Real Estate

Real Estate
Neil &Cathryn Blair-Bennett

Coldwell Banker Residential RE






---

You Can Also Visit Us At: