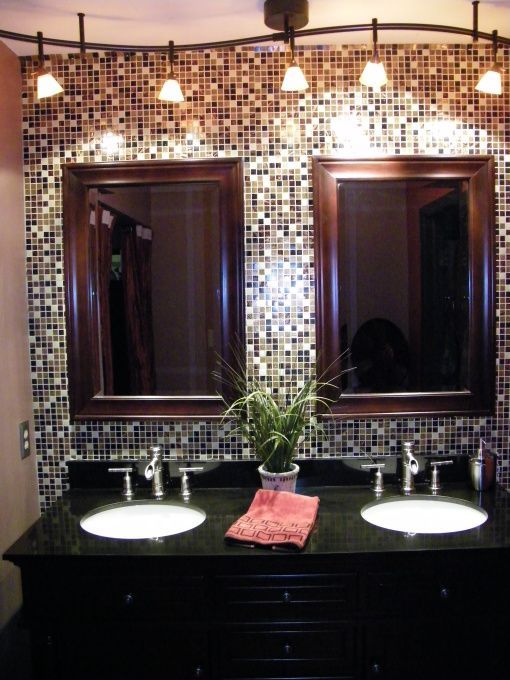 Sometimes the hardest room to doll up will be the smallest room in the house...The Bathroom. Being a realtor for many years, I have shown a lot of homes and I have seen some interesting bathrooms with way too many pictures, the pattern of the shower cutains colliding with the towels and too much cluttered decor on the counter making it the worst room in the house. But this small room can be spectacular with a little effort.
Pictured here is a simple way to glam up a bathroom. The multicolored "chicklet" tile pattern brings all the colors of the room together. Instead of one big sheet mirror, two lovely framed mirrors are used here with track lighting above. It is always smart to match the light switch with the hardware fixtures on the sink for a polished look. Are you afraid this transformation will cost thousands of dollars? Think again! As a DIY remodeling project, it becomes a low cost weekend project. Depending on your creativity, it's possible make your bathroom look this fabulous for under $500.00!
The chicklet tile comes in 1ft. X 1ft. sheets from $7.99 and up at your local decor store. Be sure to correctly measure the space you are covering first before you buy. Framed mirrors can be found at Hobby Lobby in all shapes and sizes at a great price and most local hardware stores will carry lighting, hardware and switch plates to match. I always look for the sales. Wiith online stores now at our fingertips, we have a much larger variety of goods to choose from and we can let our fingers do the walking to compare prices much faster than driving from store to store. It's also good to know that Amazon offers free shipping on items over $50.00. There is no time like the present to improve your greatest investment as your home.
About the writer: Design Idea was written by Cathryn Blair-Bennett, broker-associate for Parrot Key Real Estate in Cape Coral, FL. Cathryn can be reached directly at (239) 244-1495 or via email Cathryn@ParrotKeyRealEstate.Com.
For buyers and sellers Parrot Key Real Estate services Cape Coral, Fort Myers, Fort Myers Beach,Lehigh Acres, Estero, Bonita Springs, Alva, Sanibel Island, Captiva Island, North Fort Myers, Naples, and Pine Island in southwest Florida.
Coldwell Banker Residential RE

1631 Del Prado Blvd. S. Unit 410

Cape Coral FL 33990
Neil &Cathryn Blair-Bennett
239 244-1495

---

You Can Also Visit Us At: