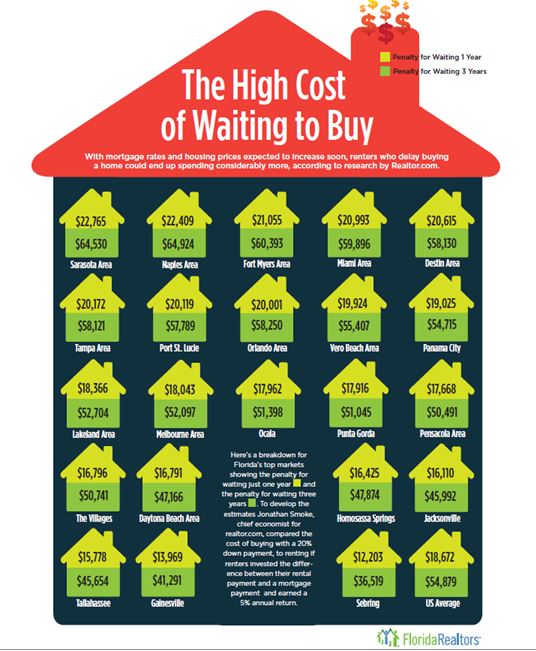 1. You Are Wasting Your Money
Unless you are buying the home you are renting. There are much better ways of disposing your money that would benefit you, but renting is not one of them. Renting should only be a temporary solution for housing. If it becomes a solution for more than 2 years of housing then you are wasting your money. In addition, according to the above housing chart from The Florida Association of Realtors, it is costing you thousands of dollars every year you wait to buy a home. The yellow indicates how much the average home will go up in price waiting one year. The green reflects how much the average home will go up in three years.
2. You Are Making Someone Else Rich
That someone is your landlord. You are filling his bank account, sending his kid to college and paying for his vacations. Is this what you really want to do? While you are taking care of this landlord quite nicely, he is raising your rent each year.
3.
Renting is Costing You More
Renting costs you more each year, not just every time the landlord raises your rent. To rent, most landlords today require the first months rent, last months rent and security deposit up front. If you move, you pay for moving expenses, rent and the security deposit. If you have pets, most landlord's charge a pet deposit. Most landlords will have you pay for lawn care, pool care, and water softener upkeep. More and more landlords are demanding the tenant take care of the pests and other minor repairs as well. The days of landlords "taking care of everything" is over.
4. Neighbors
Constantly moving and renting is a transient lifestyle that can be unsettling, and one reason could be your new neighbors. If you move a lot, you never know what kind of neighbors you will have living close to you. You might have to live a quiet lifestyle or lock your doors until you get to know them.
5. Instability
Did you know that creditors today consider you an unstable higher credit risk when you rent? You could be subject to higher insurance and credit card rates even though your credit score is decent. Most creditors today save their best rates for homeowners.
If you rent in an older home or apartment, chances are your utilities will cost you more because the house is old, heating/cooling system is old, windows and doors are not sealed correctly and that results in higher utility bills. As the Utilities raise their rates, this will cost you more each year.
7. No Equity or Tax Advantage
When you rent you do not share in the equity in the home. The equity belongs to the landlord. Any appreciation that accrues on the home while you live there, belongs to the landlord. All home tax advantages belong to the landlord. If you add anything to the home that will increase the value of the home, it belongs to the landlord. And if new shops or restaurant s open up near your rental or city improvements are put in place, most likely your landlord will raise your rent and laugh all the way to the bank.
8. The King of Your Castle is Not Really You.
The real king of your castle is your landlord. They will dictate what you can and can not do in "your" home. You better be careful of how many pictures you can place on the wall because of the nail holes you will leave behind. You might not be able to paint the walls and you might not be allowed to have pets, it depends on the landlords rules and you might want to comply or you may never see your security deposit again!
The best investment you can make in your life is in you! When you stop renting and buy a home you are essentially investing in yourself and your future. You are creating stability in the eyes of your family, friends and creditors. You will be able to have tax advantages and collect any equity that accrues in your home. Putting roots down with home ownership will give you a sense of accomplishment, confidence, security, stability and it may even help improve your credit rating every time you pay your mortgage. You can make your utilities and home more efficient from cleaning the old equipment or buying new, to re-sealing the windows and doors or adding solar panels. This could save you hundreds in utility bills every month.
10. Finally have Peace of Mind and Freedom
When you own your own home, you will finally have peace of mind in knowing what you have belongs to you! You will have the freedom to do whatever you want with your home. Break out the paint, put up all the pictures you want, add a deck, patio, pool or fence the yard to let your kids and your pets run free. Have family reunions at your house, pull out the grill, personalize your mailbox or just sleep better at night knowing no one is going to "raise the rent" or sell your home out from under you because, you no longer rent!
---
About the writer: 10 Reasons To Stop Renting and Own Your Own Home! was written by Cathryn Blair-Bennett, broker-associate for Coldwell Banker Residential Real Estate in Cape Coral, FL. Cathryn can be reached directly at (239) 244-1495 or via email Cathryn@CBCapeCoral.Com
For buyers and sellers Coldwell Banker Residential Real Estate services Cape Coral, Fort Myers, Fort Myers Beach,Lehigh Acres, Estero, Bonita Springs, Alva, Sanibel Island, Captiva Island, North Fort Myers, Naples, and Pine Island in southwest Florida.
I Want To
Search For Properties
I Want to Know More About Home Buying
Real Estate Advice & Tips
How Much is My Home Worth?
I Want to Know More About Selling My Home
Learn More About

Coldwell Banker Residential Real Estate

Real Estate
Neil &Cathryn Blair-Bennett

Coldwell Banker Residential Real Estate

1631 Del Prado Blvd. S. Unit 410

---

You Can Also Visit Us At: